Contact information:
Mailing Address-
MotocrossTracks.com
447 McPherson Rd
Oil City, PA 16301
For general inquires, suggestions, support, or questions about the site please e-mail russell@motocrosstracks.com or emily@motocrosstracks.com .
For information about marketing your company on MotocrossTracks.com and its social networks e-mail ads@motocrosstracks.com .
We ride and race all over the country as well as running a small private track of our own so we know a little bit about both sides of the equation. MotocrossTracks.com is a valuable resource for both tracks and riders to use.
MotocrossTracks.com is the leading online directory of tracks and riding areas around the world. Riders- search tracks by country, state, type of track, and keyword or just browse through them all! Track owners- register your track on our comprehensive directory, to be seen by a global audience of riders on the web! Add events, photos, video, track map, sponsors, and other information about your track to help bring in more riders. You can even use the Classifieds section to buy or sell products for your track and post job listings for help needed at your events!
Testimonials:
Comment from Phil Kirkpatrick of MX Park in Missouri (Home of the Moonshine OMA National)- "Thanks Russell, I enjoyed your services in the past with results that exceeded my greatest expectations. I was also a premier track, paid the $50.00 for a star by my track name which was a bargin for the calls and support I got from riders from MN. WI. IL. MO and IA. Things have changed alot here since 2005-2006-2007 banner years for my track when I first found and was able to use your web site. I referred many riders over the phone and in person to motocrosstracks.com to find me as well as other local tracks. Hundreds of people I pointed to your site for information. As you probably already know circumstances and change happens quickly in our lives, and for health reasons I may not be able to open my place after 27 years of sevice to the MX and the Off Road riding community. If I get well enough by spring and things turn around for me I will be sure to get back in touch. Keep up the good work you have a great concept and should charge something for your service if you don't already. I can't really tell you how much your site helped me, it was un-believeable."
Banners:
Copy and Paste this code to your website or profile to use our logo as a banner-
<a href="http://www.motocrosstracks.com" target="_blank"><img src="http://i82.photobucket.com/albums/j256/l2rmx/mxtlogo.jpg" border="0" alt="Motocross Tracks"></a>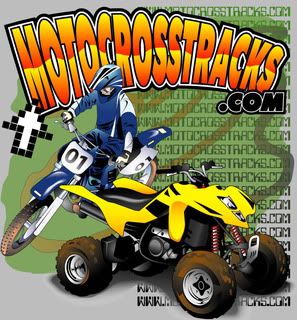 Partner Links:
MX Training & Nutrition- www.linemanmx.com
Motocross News, Games, Tracks, and more- www.motocrosstracks.net
2-strokes- www.twostrokemotocross.com
MX/ Action Sports Clothing- www.motooption.com
home improvement products Shop online for a wide selection of bathroom suites and home improvement products from leading international designers at low internet prices and fast home delivery service - neuhome.co.uk